Where Are They Now? #9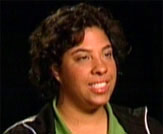 What has director Angela Robinson been up to lately?  The San Francisco born director first got noticed when she made a feature film version in 2004 of her popular short film D.E.B.S. (though people who have seen both said the short film worked much better). But soon afterwards she was picked by Disney Pictures to direct their big budgeted remake of The Love Bug, Herbie Reloaded, released in 2005 with the back then A list sensation Lindsay Lohan before booze, drugs, car crashes, numerous run ins with law enforcement and other bizarre behavior made her a laughing stock and brutally killed  her career, quickly dropping her down from A list to somewhere around Q list of Hollywood celebrities.
However, with Herbie, Robinson became (and still is) one of the very few black female directors to direct a film for a major Hollywood film studio, though there was practically no mention of it anywhere at the time of the film's release. I can't recall a single article about Robinson or an interview with her even to this day. Whether that's a conscious decision by her to stay out of the public eye or just something that has been overlooked is a mystery. Yet the solid box office success of Herbie should have assured Robinson a steady career directing films, but she's been missing from the big screen nor have any feature projects been announced since the release of Herbie.
However, according to IMDb  Robinson has been concentrating mainly on TV during the past few years as one of the regular directors for the Showtime series The L Word and is now currently a writer and consulting director for the current HBO series Hung. She is also currently developing a new feature she's co-written and intends to direct, Jenbot, which is slated to be released in 2012. Who knows, maybe one day soon she'll even do an interview as well.
Comments are closed.